Brake Light Buddy – Covered by US Utility Patent No. 11,066,053
Endorsement: I don't usually give product feedback, but just wanted to say that this thing is great! Simple device but works fantastic, and my techs love it. They use it on every car that comes through the shop.
Antonio Munoz President Cecil's High Tech Auto Repair Vacaville, California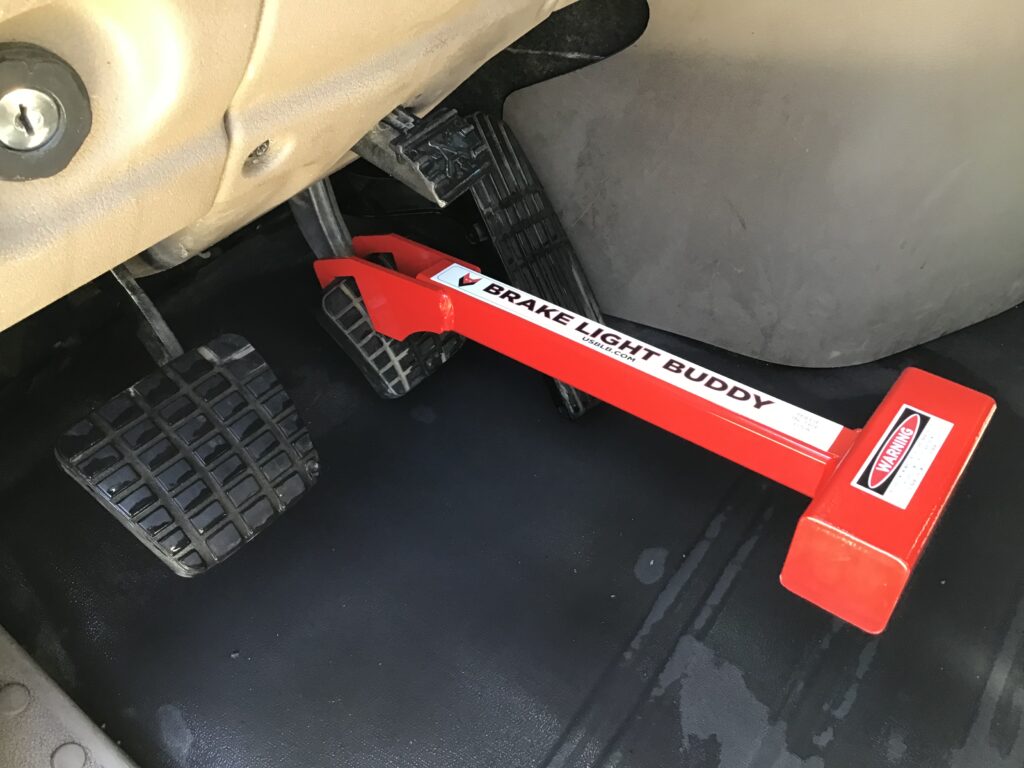 How to check your brake lights by yourself. Brake Light Buddy will help our roadways to be safer by making checking your vehicle's brake lights and brake pedal switch a one-person process.  Brake Light Buddy is easy to use, it literally only takes seconds to apply.  Simply slip your Brake Light Buddy onto your brake pedal, then check to see that your brake lights are working.
OUR BRAKE LIGHT BUDDY IS THE SOLUTION TO AN INCONVENIENCE THAT HAS EXISTED SINCE VEHICLES HAVE HAD BRAKE LIGHTS. How can I check my break lights by myself?
We currently have 3 Brake Light Buddy versions available for purchase.
1. Semi-Truck Brake Light Buddy, intended to be used on most semi-trucks with a hanging brake assembly.
2. Semi-F Break Light Buddy, intended to be used on most semi-trucks with a floor mounted brake pedal.
3. Regular Brake Light Buddy, intended be used on most cars, pickups, SUV's, vans and motor homes.
Brake Light Buddies are all metal tools, made in the USA and built to last. They have a Lifetime Guarantee when used as intended to check brake lights.